Shop
Two long time friends and heart transplant recipients and their story behind the band!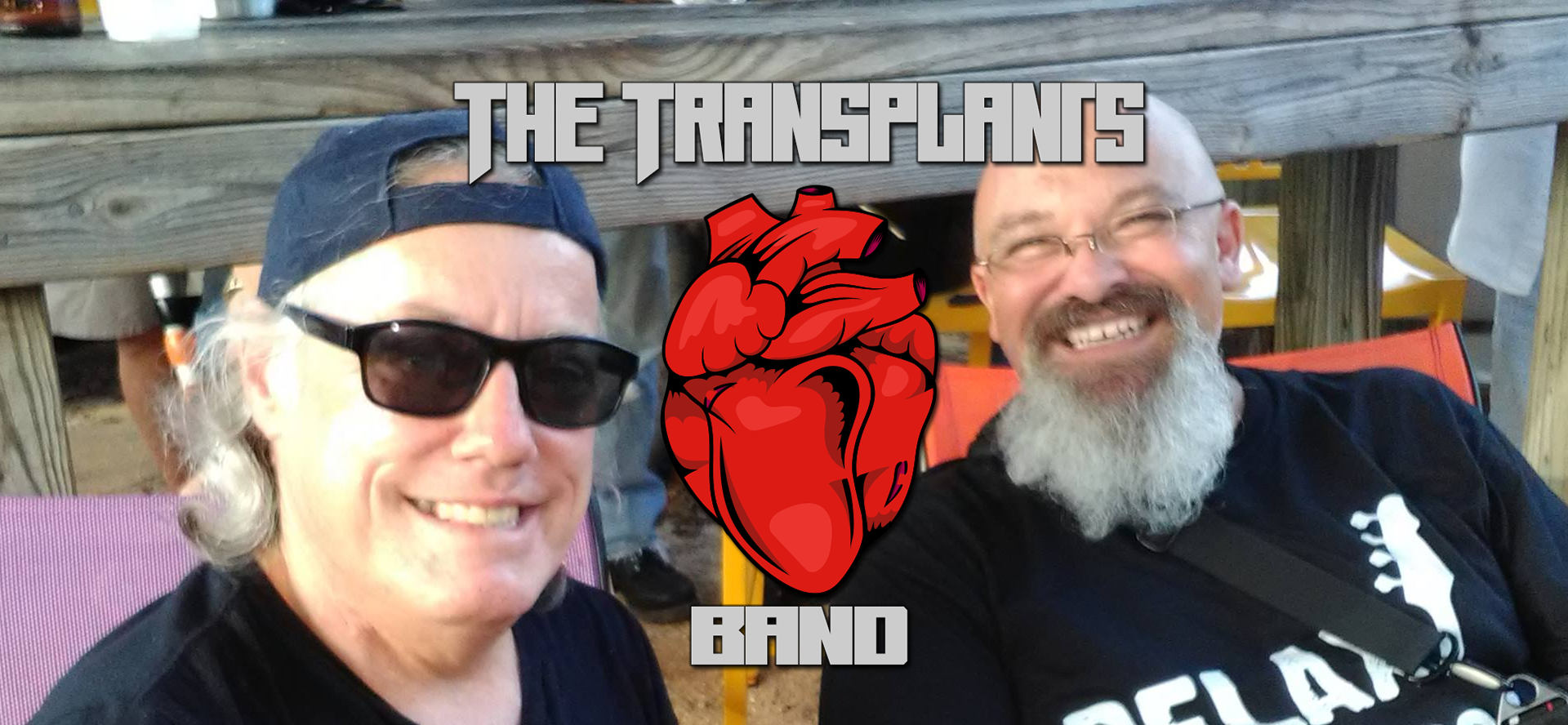 Joseph Luley (Joe), drummer extraordinaire, and Brian Tafoya, Singer/Guitarist/Bassist/Joker have both received the gift of life, a second chance, both within the same year! In 2018, we both received Heart Transplants at the AdventHealth Transplant Institute in Orlando, Florida, after both experiencing multiple heart failure episodes for roughly 8 years prior. This is NOT how we met as you would think, we met playing music at a Jam session formally known as the Yellow House in Cocoa Beach.
It was not long before we would be playing in the same band(s) for many years, forming The Brevard All Star Jam Band eventually. During this time we both had been experiencing Congestive Heart failure. (We both experienced our first heart failures before we knew each other.)
Joe, born and raised in Brevard County, Florida, was the first to experience a nearly final massive heart failure on August 5, 2016 when a drunk driver hit him and the trauma to his chest set off an episode of ventricular tachycardia that almost ended his life. At one point he was clinically dead while the surgeon worked tirelessly for around 10 minutes to restore his heart beat! After a failed heart bypass surgery, He was sent to the AdventHealth Transplant Institute in Orlando where his body then rejected a left-ventricular assist device (LVAD), and was placed on life support. He struggled for some time but thankfully he was blessed in March of 2018 with a heart transplant! Joe lived in heart failure for 7-8 years when he was given his second chance at life! His heart failure journey, especially towards the end was downright brutal yet amazing! Today, he is a very happy and blessed man who we call the human metronome when he is behind those drums!
Brian, having moved to Florida from Phoenix, AZ, in September of 2011 (was supposed to see the last Shuttle launch on my birthday but was a day late due to car troubles) after living many years in the blistering heat and ready to get to ocean life. I was born in California and spent a good part of my childhood near the beaches! I recognized that I was not in good health and thought living in the extreme heat for so long was part of it. I met a wonderful woman several months before she had planned to move to Florida who I would visit. Phoenix had a great music scene, but Brevard and in particular Cocoa Beach was just incredible! So when I made a decision to move from Phoenix, the destination I thought was pretty simple… Cocoa Beach! Was only a matter of 3 months before I auditioned for a new band (Triple Play!) and began playing out throughout all of the clubs in the Melbourne area. My time playing was cut short on New Years eve 2012 while out with my friends I felt like a had a real bad flu. Nope, but a flew but a massive heart failure. I was told I was in-operable, meaning bypass surgery was out of the question. And at the time, a heart transplant was not even and option. After being stabilized to the best of the doctors abilities and stints placed with the direction of a very amazing doctor who found a very obscure workable solution to keep my heart operational, I was sent home wearing something quite familiar to former Vice President Dick Cheney, a wearable defibrillator for roughly 6 months while taking a full cocktail of drugs. My two wonderful cardiologists for the next 7 years watched me closely, at one point I was fit with a implantable pacemaker-defibrillator. (Which to this day my dad has the very same model!) Well, a couple years after that I visited Cape Canaveral ER once again where the very surgeon who admitted me 7 years prior told me it was time to do something drastic and get you fitted with a left-ventricular assist device (LVAD). So I get carted off by ambulance to, you guessed it, the AdventHealth Transplant Institute in Orlando where is was stabilized and fitted with a left-ventricular assist device (LVAD). At the time I did not qualify for a heart transplant due to massive failure of my lungs and kidneys. After several months of the heart pump and some experimental medications, my lungs recovered and I qualified! (On my birthday, what a gift!) Just a few days later I went in for the blood-work to find a match, and literally the next day I received that phone call telling me you can come back to Orlando because we have something for you! So now I celebrate two birthdays in 1 week! October 3rd, 2018 I too was given the gift of life and a second chance.
So the band name is an interesting story. Joe had been in for a regular clinic visit and dropped in to see me on the floor that is the last stage of recovery before being released. My nurse was in the room, looks right at Joe and says "Hey! You two should start a band called the Transplants!" She had been both of our nurses at one point.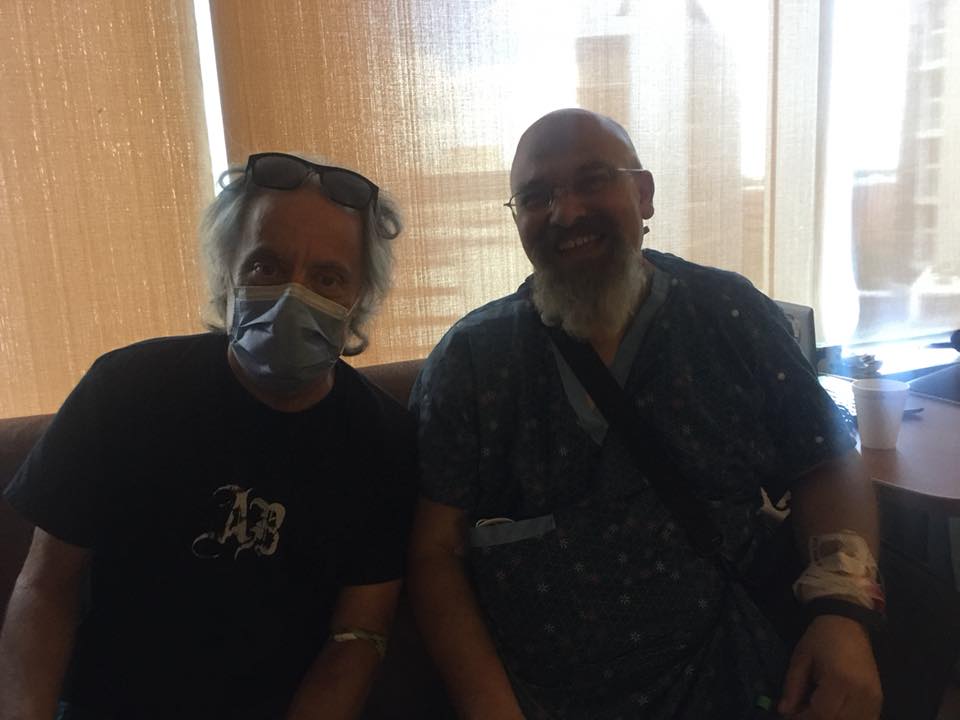 How awesome is that we both say, so as a tribute and a show of thanks to the entire team that saved our lives, The Transplants Band was formed! Joe and I, Brian, both have the same transplant team! The cardiac surgeons performed both of our transplants, as well as mt LVAD surgery. Most of the nursing staff had been on duty with us as well! We have two separate Transplant Coordinators, RN's that specialize in post transplant support, but Joe has had visits with mine and I have had visits with his. The entire story is a miracle!
So to this day, Joe and I play music together at least once a week. We are each other's support because I can guarantee very few know what we experience on a daily basis. (We do have a mutual friend and Heart Transplant recipient from Titusville we occasionally talk to as well.) Be are bothers, not by birth, but from life experiences and our mutual love for music and life!
So there it is! Our story! We both from the bottom of our new hearts, thank you for your love, blessing, prayers, and continued support! We love you!
Help support the band and help us pay for our life long medication!
Both of us will spend the rest of our lives on transplant rejection prevention medication. (Immunocompromised) We must take every day every 12 hours to keep a certain level of the medication in our blood at all times to prevent our bodies from rejecting the heart! Buy some swag, shirts, stickers, or even donate if you please! All profits form the purchases are split between Joe and Brian and keep us up there on stage playing the music you love and enjoy! We thank you from the bottom of our HEARTS!
Showing all 3 results